News
Lacking transparency from your current IT provider?
by Rupert Davey
February 2020
Intelligent Analytics & Reporting
What does your IT support company actually do?
As a business partnered with ctm IT Support, you'll benefit from high visibility with your own login to our unique my.ctm portal. As your single pane of glass, my.ctm provides an unrivalled level of visibility, along with a granular drill-down level of information, surrounding the health & inventory of your IT assets, your cloud service consumption & billing and support ticketing – including our service delivery and performance levels.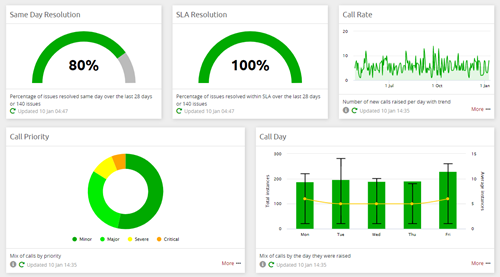 Scheduled & organised
Complete service transparency is provided to all clients of ctm IT Support as part of every IT support package. Within the my.ctm portal, you'll benefit from the visibility of your scheduled onsite appointments or planned work.

Support Ticket information
Obtain insight into historic & ongoing support cases from your users; detailing dates, times and subjects among with other facts relating to the fault details of each support case. With each including a set priority level, age and resolved date.

Keyword identifier & analysis
A stand-out feature in helping identify patterns is the Keyword Analysis tool. Receive a word-cloud visualised representation of your most frequent keywords, which at a glance provides an overview of the volume of related support cases that have been logged. Need to drill down further? Not a problem. Granular details are on-hand should you wish to further analyse any patterns or trends with the support cases raised by your team.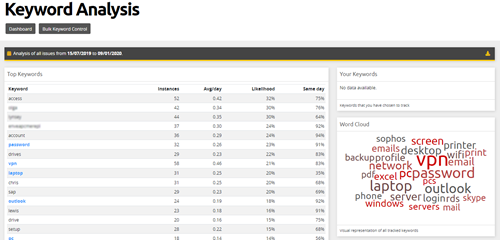 Drill into keywords to see more details.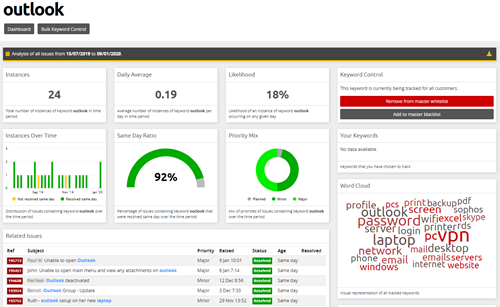 Book a demo & more information
More information can be found here: https://www.ctm-it.com/products/analytics
Or for a demonstration please contact us via chat or here: https://www.ctm-it.com/contact